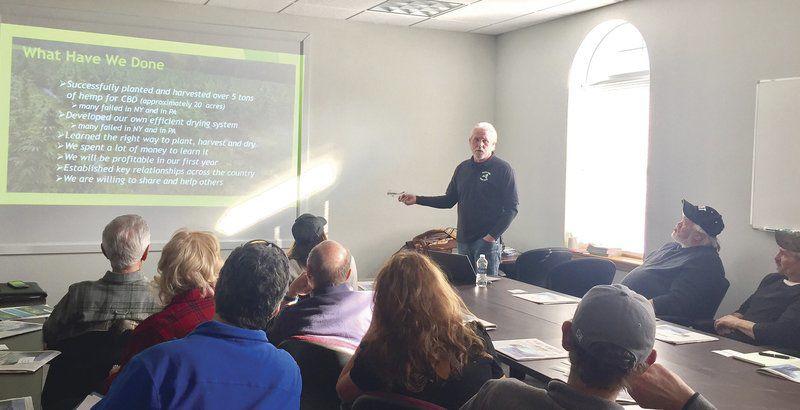 Many New Yorkers are eager to enter the burgeoning hemp industry, but regulations and prohibitive costs pose challenges for the average upstate farmer looking to grow the crop, according to a seminar Friday in Delhi.
New York expanded its pilot hemp research program in 2017 to include farmers and businesses, and applications exploded last fall when the Department of Agriculture and Markets created a separate application for CBD-related research partners. However, those approved this year may not have time to plant by the summer.
There are more than 150 registered growers and processors, according to an Agriculture and Markets spokesperson, and approximately 3,500 acres of farmland were approved last year.
Infrastructure for processing both industrial hemp, which is used to produce a wide variety of industrial and consumer products, and Cannabidiol (CBD), a cannabis compound with therapeutic effects, is in development around the state.
Partners from one new venture, Grow Hemp New York of Windsor, spoke to curious farmers Friday in Delhi at the Delaware County Business Center about their successful first year of business. The county chamber of commerce invited owner Jeff Bump and partner Rick Pell to speak to about 30 farmers.
The men laid out their costs for producing more than five tons of hemp last year for CBD, which they sent out of state to process. They said each seed cost about a dollar, and the price to fully grow each plant was $8 to $10 dollars, including labor. Each plant turned a profit of about $35.
"We spent a lot of time doing things wrong this year and we're still going to turn a profit," Pell said, likening the blooming industry to the Wild West.
Pell advised the farmers not to start growing unless they have a plan and a market. Attendees included a recent college graduate interested in CBD as a pain therapy and hay farmers from Schoharie County.
The world's largest cannabis company, Ontario-based Canopy Growth Corporation, announced this month it will spend up to $150 million to open a hemp processing operation in the Southern Tier. The company is expected to announce the location in the first half of the year.
The announcement is the first significant investment in a hemp processing center to follow the passage of the new federal Farm Bill passed late last year. The legislation removed hemp from the controlled substances list to clear the way for farming and processing of the industrial version of the plant. It also allows industrial hemp farmers to attain crop insurance.
One Madison County farmer who spoke with The Daily Star, Matt VanHeusen of Georgetown, said he chose not to grow last year because he was concerned about costs and how to harvest hemp. He also said the CBD processor he was planning to grow for did not stay in touch.
"My wife and I are getting close to time to retire, and we're looking for something fairly easy" and profitable once established, said the firefighter and hobby farmer. He said he intends to grow hemp in the future for the grain and fiber industries.
Erin Jerome, staff writer, may be reached at ejerome@thedailystar.com or (607) 441-7221. Follow her at @DS_ErinJ on Twitter.